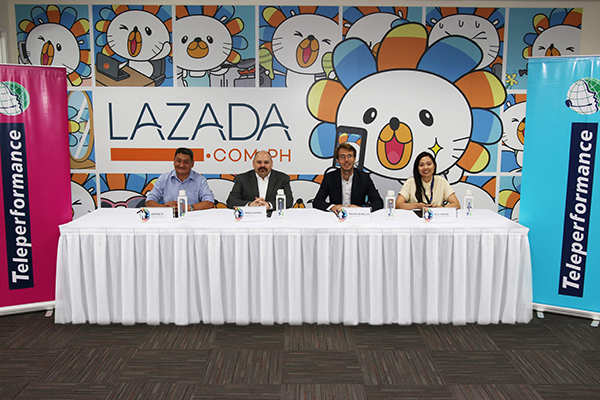 Teleperformance and Lazada partnership
(L-R) Teleperformance Philippines Vice President for Recruitment George Dy and Managing Director Travis Coates formalize corporate alliance with Lazada E-Services Philippines Chief Marketing Officer Tristan de Belloy and Vice President for Offline Marketing Mila Jimenez
Applicants looking to build a professional career in customer experience management can also be eligible for special rewards from industry leader Teleperformance Philippines. The company recently signed a Memorandum of Agreement with online shopping platform Lazada to implement a rewards program wherein successful applicants get exclusive Lazada shopping vouchers they can use for their personal purchases.
The six-month-long promotion dubbed "Apply to Shop" is the first of its kind in the Business Process Outsourcing (BPO) industry as it partners the worldwide leader in outsourced omnichannel customer experience management with Southeast Asia's number one online shopping and selling destination. It is an alliance that ultimately benefits the applicants who are doubly rewarded with great career prospects and exciting shopping privileges.
"We are always looking for innovative ways to deliver excellent customer experiences. As a people company, we regard our applicants and employees as our customers and we want them to feel that they are valued and celebrated at Teleperformance," said Travis Coates, Managing Director of Teleperformance Philippines.
This promotion is just one of the many fresh initiatives that Teleperformance has been introducing to the market in its bid to attract quality talent that the company constantly needs for its growing business in the Philippines. This maverick spirit is one of the reasons that the company has recently been certified as a Great Place to Work® — the first organization in the country to achieve certification from global research and consulting firm Great Place to Work® Institute.
"Applicants are seeking to belong to a company that is strong and stable, offers growth opportunities, provides a safe and inclusive workplace, and of course, still evokes a sense of fun where they can enjoy coming to work every day. That is what campaigns like 'Apply to Shop' demonstrate – that we understand what people enjoy and we share that enjoyment with them," said Coates.
"Lazada is happy to enter into this partnership with Teleperformance Philippines to help provide rewarding experiences for their new hires and current employees. With our extensive selection of international and local brands, they will also find exciting products that are available exclusively on Lazada. We look forward to launching even more projects with Teleperformance in the future," said Tristan de Belloy, Chief Marketing Officer of Lazada E-Services Philippines.
Teleperformance invites career seekers to explore the exciting employment opportunities at Teleperformance. For more information on the company and the "Apply to Shop" promo, visit
www.facebook.com/teleperformance.philippines
. Applicants from across the Philippines can also call #8353 (#TELE) any time on any day from any network, either landline or mobile.