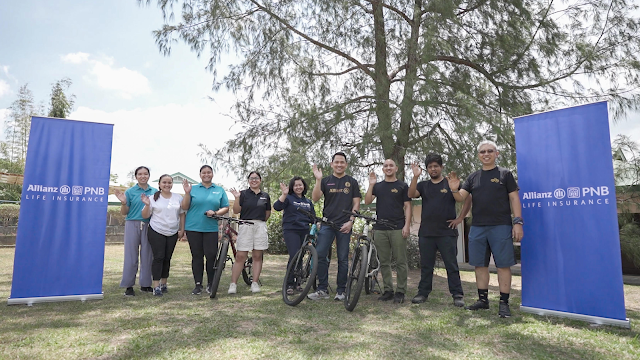 Bike commuting has become more mainstream in the Philippines because of the pandemic, as Filipinos sought safer and more cost-effective means of transportation during the height of the quarantine restrictions. In April 2022, data from survey company SWS showed that 7.3 million Filipino households owned a bike, one million more than its May 2021 survey result of 6.2 million.



With this growing biking community, Allianz PNB Life launched the Ride Safe initiative in 2020 to help create safer, more bike-friendly cities in Metro Manila. Through the program, Allianz PNB Life partnered with local government units (LGUs) and organizations to promote road safety and road sharing through cyclist education and by advocating for bike-friendly infrastructures.


Sustainable futures

Though Covid restrictions have been eased, many Filipinos still choose to ride their bikes to work and for leisure as an efficient, low-cost, and sustainable form of transport. This led Allianz PNB Life to expand its CSR campaign and evolve Ride Safe into a new program. The program now incorporates a livelihood intervention component in partnership with global non-profit organization SOS Children's Villages Philippines (SOS Philippines) and bike advocacy group Tambay Cycling Hub (Tambike), an independent bike repair shop in Pasig City that aims to help all bikers, whether recreational bikers or those who use bikes for transportation or livelihood. The program will provide participants with livelihood skills that will help them support their families, as it has been found that poverty is one of the challenges in keeping a family together.



Through this entrepreneurship and bike-skills program, Allianz Ride Safe selected 9 SOS Children's Village Family Strengthening program participants from Iloilo, Cebu, and Tacloban. The participants underwent one week of training on bike maintenance and repair from instructors at Tambay Cycling Hub. The participants were also equipped with entrepreneurship and financial literacy mentoring to help them start their own small businesses. During training, the participants drafted a business plan and received a grant of P150,000 to set up a bike shop.


Kevin Skinker, president of Tambay Cycling Hub, lauds the Ride Safe initiative as a vital support to the biking community. "With more Filipinos taking to the road on their bikes, there is a need for more skilled bike mechanics and bike stores. This program will help to grow the bike community and make the world a better, safer, more environment-friendly place."




According to Andrea Celica Santos of SOS Children's Village, the program was met with much enthusiasm by the participants who were eager to learn new skills. "The primary reason for the breakup of families is poverty and the lack of livelihood opportunities. With this program, families can stay together and have stronger foundations because they have a source of income. Our participants are motivated by the future of their families."


Program participants Renato Gadot and Ricky Natalyo from Iloilo agree, adding that this will help greatly in supporting their families. Both of them are excitedly planning to start a business as soon as they return home from training. Maria Filipinas Ansale, a mother from Tacloban, is also proud to be a participant. "Learning is hard, but it shows that women can also do bike repairs." She previously availed of an SOS Children's Village training program in cooking and is glad to have learned a new skill that can help her raise her children.


Creating green jobs

The new Allianz Ride Safe program not only promotes biking as an environment-friendly form of transport, but it also enables the creation of sustainable green jobs to support families and communities. This will not only help secure the financial future of more Filipinos, but will also help preserve nature for future generations.


Allianz PNB Life Chief Marketing Officer Gino Riola says, "With the brilliant revolution in terms of cycling, we wanted to turn this into livelihood opportunities for Filipinos. The ability to make this happen is dependent on our partners, with Tambay Bike Hub extending training to our program participants and SOS Children's Village providing the platform to reach out to those in need. We are happy that we extended our advocacy out of Metro Manila, with Ride Safe now in the provinces. The success of this program is also dependent on our participants who will work with bikes in their respective communities."




Allianz Ride Safe is an initiative under the Allianz PNB Life Kaagapay program that aims to teach financial literacy and aid families through microinsurance. In 2021, the Ride Safe campaign won the CSR Initiative of the Year at the Insurance Asia Awards.


More information about Ride Safe and AZPNB is available at allianzpnblife.ph or @allianzpnblifeofficial on Facebook.