On the 10th of February, I attended a workshop at the Selah Garden Hotel. Ready, Set, Blog 2.0 was the title of the event and I went with bloggers who I considered friends. It was a few minutes away from the Metro Rail Transit Taft station. I surely had a great time. We stayed overnight and it was an unforgettable experience.
Ambiance
Upon arriving at the location, there was not anything fancy about the facade. There is a wooden theme that is quite relaxing. A secret door leading to the restroom is on the right. I was greeted by a friendly receptionist and was given instructions to where the workshop was held.
The lobby contains plenty of wooden tables and chairs for numerous guests. It was clean and the lights were not bright exuding a relaxing atmosphere.


The function room was enough for at least thirty persons and it's well-ventilated. After the workshop is where I got amazed at the place. The pool was extraordinary as it displayed mood lights which changes every minute or so. Dinner was served at the garden where a big wide swing hangs from the colossal tree. It was too high that it was enough for wall climbing. Across the pool is a zip line and a bridge for free fall.
Rooms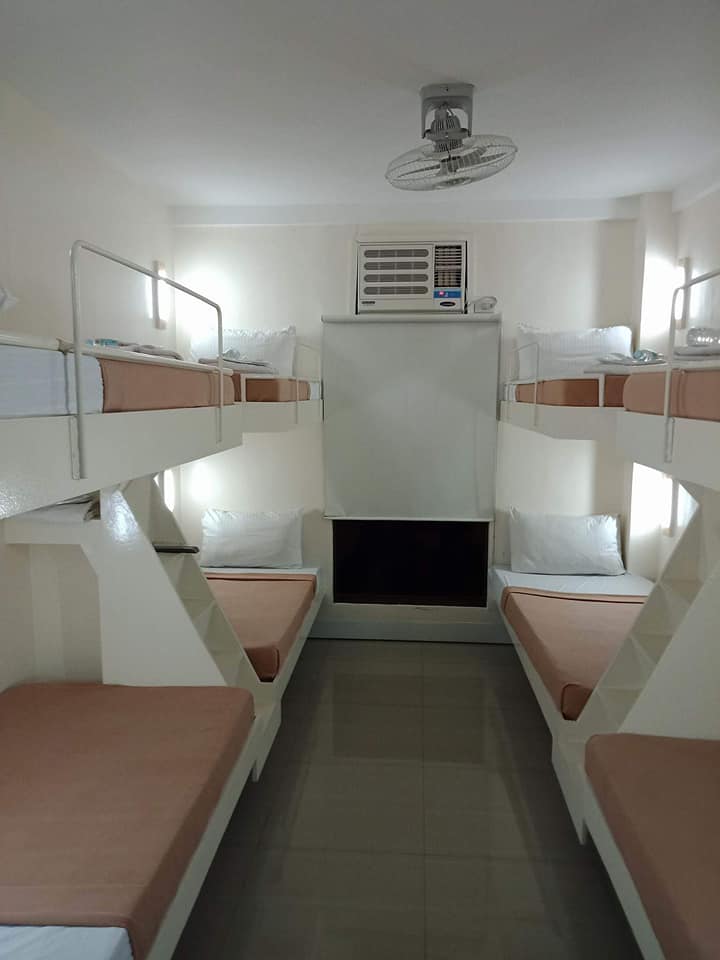 A dorm type room was reserved for us and it was my first time to see such in a hotel setting. Surprisingly, the room is spacious and comfortable. There was dedicated lights for each bed, a TV mounted above the door and it was air-conditioned. It has five double beds and Wi-Fi which can be used at any corner of the place.
The garden is the cente rof attraction. Dimmed lights surrounded it and we had a great dinner.
Food

The atmosphere was romantic as we had candles on the long tables and we were served fish, sweet & sour pork, tempura, and we even had black Gulaman for dinner. While for breakfast buffet, there was a wide selection to choose from. Cereals is my favorite!
Services
The staff were all smiles and accomodating. Housekeeping even offered me plastic bags for my soiled clothes after seeing me dripping wet from the pool. Since my slippers were easily broken, they provided me with an extra. To top it all off, they encouraged us to do some morning workout by leading an exercise and held a dance contest to wake us up, that was after we had a dip at the pool.
Would you believe that they have scuba diving lessons? A portion of the pool is deep enough for that.
High Rope activities
Tree-top activities such as wall climbing, Free fall, Descent, Multi Vines, Jacob's Ladder and Broken Bridge.
The staff had to get us off the pool and had us do some activities. I'm not a fun of Zumba or anything related to it but I surely had a good laugh after the workout. The dance contest brought out our competitive nature and I enjoyed watching everybody having a good time. I had the opportunity to try the wall climb but was not successful in reaching the top. I still think it was a good first try. Too bad I did not try the zip line.
Cost

Clique room- P800/pax
with breakfast for ten (10) persons

Air-conditioned room

Complimentary WIFI access

Welcome drinks

Safe deposit box

24-hr room service

TV with cable channel

Daily Complimentary bottled water/pax

Hot and cold shower with toiletries set

24-hr elevator service

Refrigerator

Laundry service upon request
Instructions in going to the hotel:
From the MRT Taft station, it would take a 15-minute walk. The hotel is adjacent to Park Square Pasay building
The Selah garden hotel is recommended for family or team outings. Affordable price with great service. Ideal for staycations.
How to get there

It's a 15-minute walk from MRT Taft station. Adjacent to Park Square Pasay building
Overall experience