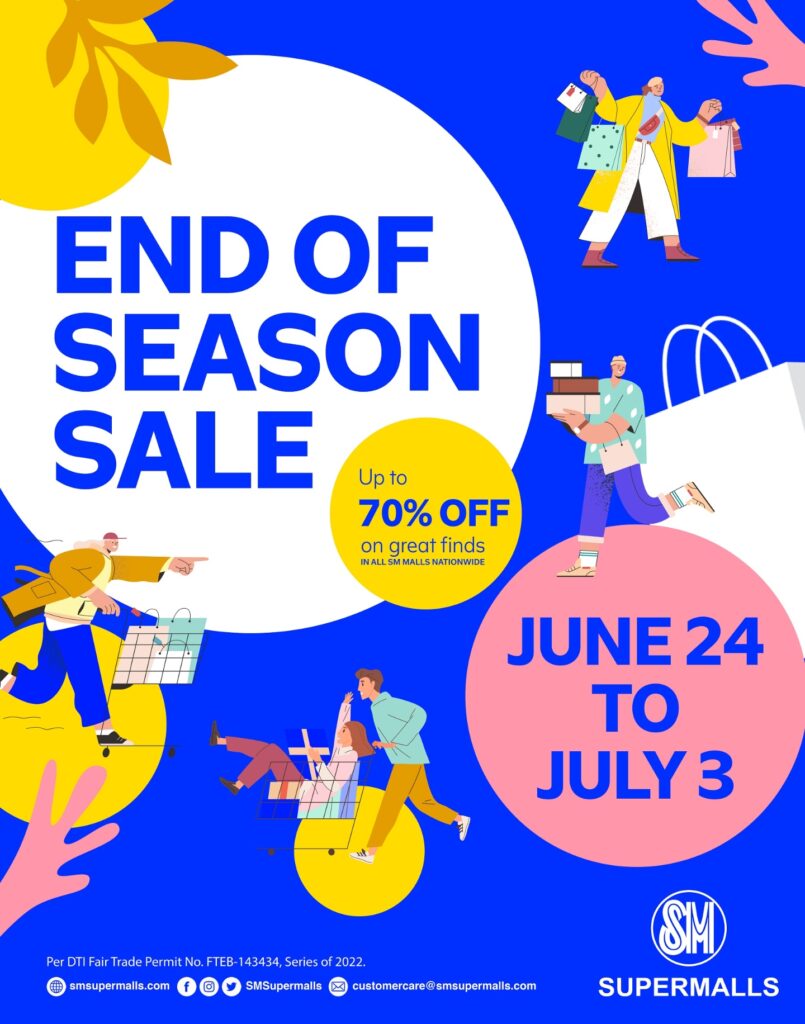 Excite your retail senses, get your shopping bags ready and say YES with SM City Marilao's End of Season Sale happening on June 24 to July 3, 2022.

Say Y.E.S to an interesting line-up of fashion discounts, entertainment, and mall-wide shopping promotions from The SM Store, SM Hypermarket, Ace Hardware, Our Home, Toy Kingdom, Miniso, The Body Shop, Watsons and at over 200 stores at the mall.

Start sprucing up your abode by shopping for that much-coveted appliance at SM Appliance Center, furniture at Our Home, or handy tools at Ace Hardware. Don't miss the unbelievable discount of up to 70% off and load your shopping carts with everything you need for all year round!

Update your wardrobe with the latest fashion collection from SM's fashion boutiques and recharge your beauty batteries with the most sought after beauty boosting treatment promos from Bioessence, Dermclinic, Dermstrata, Dermtrend, Flawless, Let's Face It, Skin Station and Surgilight. Shoppers may also check out the newly opened BEAUTeDERM that offers popular products for 10-step Korean skin care routine and essential glowing skin regimen. Treat yourself to a fab haircut and hair color at Serom Hair­­­­, Bench Fix Salon, Freshhaire and David's Salon where you can bid dull, dry hair au revoir at a special discount!



Because nothing bonds people better than food, enjoy a sumptuous meal at the SM Foodcourt. SM Foodcourt in SM City Marilao houses new food stalls like Gû-chia-chúi where shoppers can indulge in the authentic Singaporean style street food.



Foodies may also take comfort in Chee-su's "blooming' Korean buns oozing with creamy, cheesy filling. Chee-su's cream cheese garlic buns will definitely keep you full and satisfied while you shop for the things you love the most. Don't forget to treat your loved ones at specialty restaurants such as Ramen Kuroda, Botejyu, Samgyeopmasarap, Conti's, and Gringo.



With infinite reasons to love SM Supermalls, you definitely have to make it the coolest place to hang out. Stretch that hard- earned peso and don't miss the unbelievable discounts and amazing bargains only at SM CITY MARILAO! Shop now and say YES!