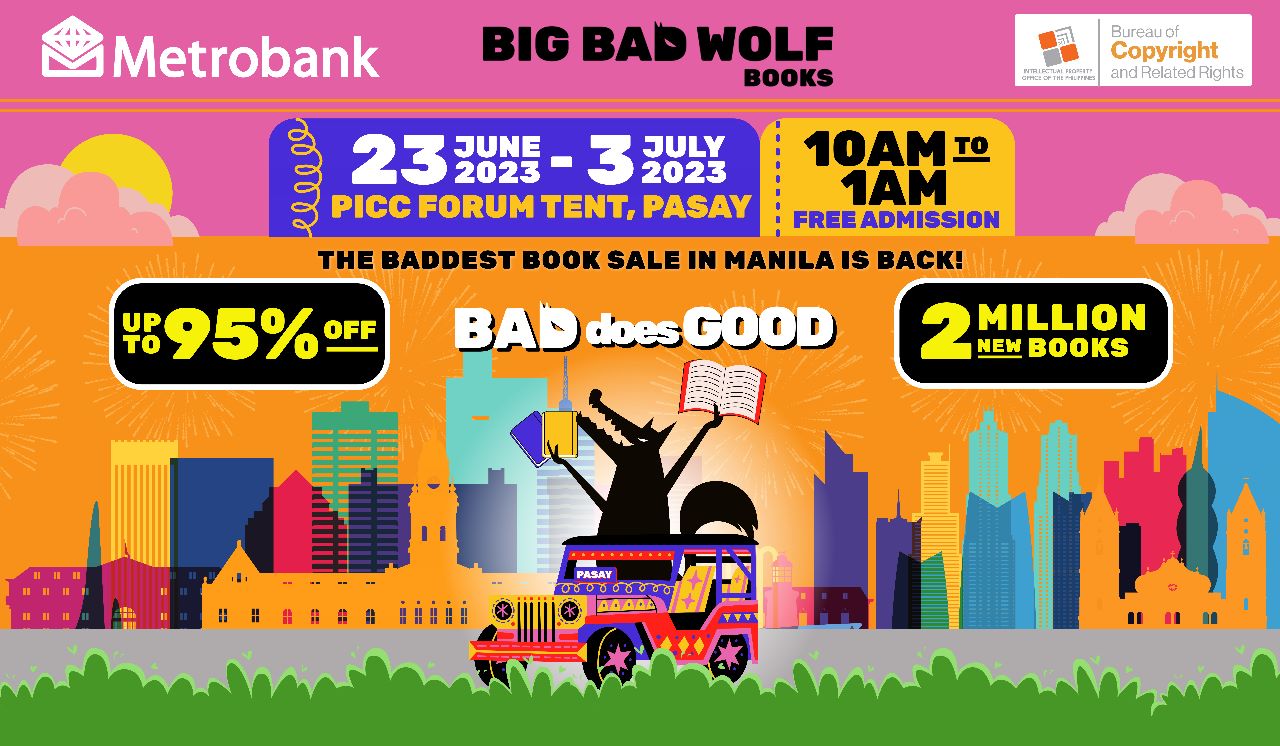 Mark your calendars and make your way to Big Bad Wolf Book Sale's last weekend. Exciting news awaits as
a new container
has just arrived bringing with it a fresh collection of all-new titles and books for shoppers to explore.
Experience the thrill of unbelievable promotions on select books every day at the Big Bad Wolf Book Sale. (See Appendix A for full list)
BBW Price: P150 BBW Price: P300 BBW Price: P180
Regular Retail Price: P899 Regular Retail Price: P1,225 Regular Retail Price: P849
And be sure to explore the newly added section, the unbelievable "Bargain Corner," where you'll discover a treasure trove of great finds priced at just P60, P100, and P120.
BBW Price: P60 BBW Price: 100 BBW Price: 120
Regular Retail Price: P849 Regular Retail Price: P818 Regular Retail Price: 849
The Book Sale isn't just about Unbelievable deals, it's also a hub of unforgettable performances and a chance to win incredible prizes. Shoppers can also still win a haul of books worth up to P25,000 by sharing their Big Bad Wolf Book Sale Manila 2023 experience on social media with a creative photo or video using the hashtags #BBWManila2023 and #TrolleyfulOfBooks2023.
Don't let this chance slip away. Join us at the Big Bad Wolf Book Sale's last weekend and immerse yourself in a world of over 2 million new, original books at discounts of up to 95% off retail prices!


WHAT: Big Bad Wolf Book Sale Manila 2023
WHEN: Until July 3, 2023 // 10:00AM - 1:00AM (daily)
WHERE: PICC Forum Tent, Pasay, Metro Manila
For more information regarding Big Bad Wolf Books' grand return to the Philippines, please visit:
Website: https://bigbadwolfbooks.com/
Facebook: https://www.facebook.com/bbwbooksphilippines/
Instagram: https://www.instagram.com/bbwbooksph/
About Big Bad Wolf Books
The Big Bad Wolf Books was founded by Andrew Yap and Jacqueline Ng in 2009 and first launched in Kuala Lumpur, Malaysia. In the words of the company's founders, Big Bad Wolf aims to cultivate reading habits, increase English literacy worldwide, and build a new generation of book lovers by making books more affordable and accessible to everyone.
One of the company's best highlights is its Book Sales, which is popular among book lovers around the world. As a global reading advocacy initiative, the sales aim to encourage people of all ages to discover the joys of reading, inspire them to pursue their dreams, and, importantly, empower them with the knowledge to realize them.
Currently, Big Bad Wolf's Book Sales have toured 15 countries and 37 cities. Among these include different cities in Asia like Malaysia, Cambodia, Manila, Singapore, Thailand, Hong Kong, and Indonesia. The company has also begun branching out to book readers outside the Asia Pacific, having held book tours in Tanzania, Kenya, and the United Arab Emirates.
Appendix
Here's the list of the unbelievable deals up to 95% off you can expect at the Big Bad Wolf Book Sale Manila 2023 this weekend:
Friday, June 30, 2023
Unbelievable Book Titles:
Fifty Shades of Grey (P150)
Chapter Book 128 Disney: Disney Princess Beauty and the Beast (P110)
Street Art - Reduced Size (P300)
Alice in Wonderland (P110)
Despicable Me 3 Tin of Books (P220)
Saturday, July 1, 2023
Unbelievable Book Titles:
Illustrated Treasury of Nursery Rhymes (P700)
Little Red Riding Hood (P110), Wizard of Oz (P110)
The Most Influential Women of Our Time (P500)
Masterpieces of the Earth - Reduced (P540)
Sunday, July 2, 2023
Unbelievable Book Titles:
Peter Pan (P110)
Porsche: The Story of a German Legend [Reduced Size] (P540)
Lightspeed: Awesome Planet Earth (P250)
Kids First Puzzle Bible (P190)
Activity Tubes: My Princess World (P90)
Monday, July 3, 2023
Unbelievable Book Titles:
Star Wars Coloring Tin (P270)
Star Wars Art Therapy Coloring Book (P110)
Kids Favorite Puzzle Bible (P190)
NKJV GIft and Award Bible [Black] (P150)
NKJV Gift and Award Bible [Purple] (P150)