Global smart device brand OPPO introduces its latest and most innovative pair of earbuds yet, the Enco X2. Co-created with Danish audio company Dynaudio, the Enco X2 delivers an expert-built system, designed meticulously to bring a studio-like listening experience to today's users. The true wireless earbuds come with not only next-level sound quality, but also top-tier noise cancellation, interactive smart controls, and streamlined design, empowers your music.

Studio-Level Sounds Anytime, Anywhere

OPPO teamed up with internationally-renowned high-end audio brand Dynaudio to co-develop an industry-leading sound system, the Super Dynamic Balance Enhanced Engine (SuperDBEE) Coaxial dual-driver five-magnet sound system. More commonly found in high-end stereo equipment, the SuperDBEE system has been carefully built into the Enco X2 to deliver a HiFi speaker right in your pocket. Along with a lightweight ultrasonic bass system to let you feel each beat, and a quad-magnet planar tweeter, the Enco X2 allows you to hear every detail and every note with the richest sound.

The Enco X2 earbuds are also equipped with Dolby binaural recording, the first TWS headsets to do so. This means you can record what you hear in the same crisp and clear detail as in your first listen.

Block Out Unwanted Noise

Each OPPO Enco X2 earbud comes with two noise-canceling microphones with a high signal-to-noise ratio, a rarely used feature in the industry. With this ultra-deep active noise cancellation, it cuts out stubborn noises from cars, streets, human voices and more.

Built on the triple-microphone system commonly found in high-end TWS headsets, the OPPO Enco X2 earbuds are equipped with all-new bone voiceprint AI sensors. These built-in sensors can accurately capture your voice even in noisy surroundings, so you can chat with loved ones or take important work calls anytime, even on a busy street. Plus, its anti-wind noise duct design and a smart anti-wind noise algorithm blocks air intake to give you clear sound and voice.

Streamlined Body for Longer Wearing

A work of art both inside and out, the OPPO Enco X2 comes in two colors, white and black, with the black version giving a ceramic-like texture for a premium feel. The earbuds also feature a new ergonomic design that's the perfect fit for everyone, at only 4.7g.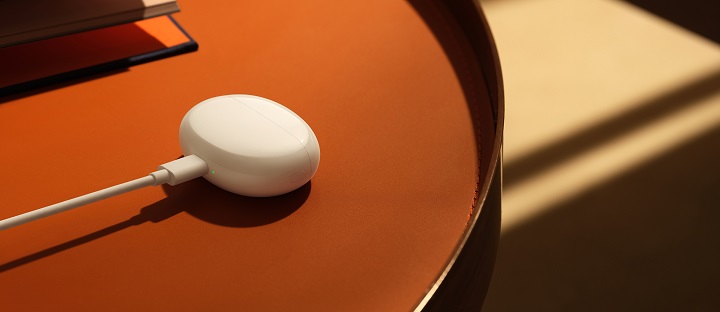 The Enco X2 earbuds are also designed for protection. Each pair comes with wax guard layers to prevent earwax from blocking the speaker outlets, making them easier to clean. Meanwhile, they are also covered with ion antibacterial coatings to inhibit bacteria growth, making them comfortable and clean to wear over long periods. As with other OPPO earbuds, the Enco X2 also has IP54 dust and water resistance, so there's no need to worry about sweat or rain damage.

Intuitive Controls and Functionality

The Enco X2 buds feature unique controls, such as single, double and triple squeezes to skip or jump back to your preferred song, and even answer or hang up calls. Slide your finger up and down to control the volume, and squeeze for longer to switch between noise cancelling modes.

Its Bluetooth connectivity promises low latency so gaming and streaming also becomes more enjoyable. You can even connect up to two devices at a time, so you can switch between answering phone calls and streaming your current TV show.

Longer Listening on a Shorter Charge

The new generation of OPPO earbuds, the Enco X2 can last up to 40 hours on a full charge, while a five-minute charge can give you up to 2 hours of listening time. Supporting your on-the-go lifestyle, the Enco X2 can be charged by simply placing the charging case on a charging pad, wire-free. The earbuds also support reverse charging from a phone, so you can always keep the music going.

Now, you can experience true studio-like quality sound wherever you go with the OPPO Enco X2, empowers your music.

The OPPO Enco X2 True Wireless Earbuds are now available for Php 7,999 SRP via OPPO Brand Stores, partner dealers, and OPPO Official Stores on Lazada and Shopee.